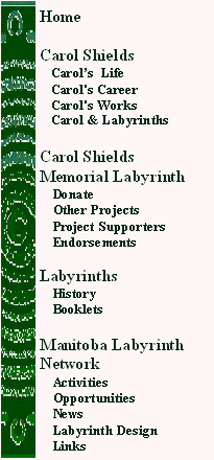 The Carol Shields Memorial Labyrinth
"A labyrinth. . . Twists through the mystery of desire and frustration. It doubles back on itself, relishing its tricks and turns. It's aroused by its own witholding structure." Carol Shields, Larry's Party

Carol Shields Memorial Labyrinth Design



King's Park
The Carol Shields Memorial Labyrinth will be located at the south end of the pond.
Shortly after Carol died, in response to strong public interest in honouring Carol in some lasting way, the City of Winnipeg phoned Anne Nesbitt and asked her if the Manitoba Labyrinth Network would organize a committee to prepare a proposal for a Carol Shields Memorial Labyrinth to be presented to their Executive Policy Committee.


"The final chapter of the Carol Shields Winnipeg Story is in danger of being left unfinished. . . A creative notion might be the designing of a labyrinth, a type of maze that formed the central symbol of Larry's Party. . . Winnipeg as a whole needs to pay its final respects to Carol Shields."

Morley Walker, Winnipeg Free Press, August 9, 2003



King's Park - a natural environement

King's Park

- a walking park
We all felt that a Carol Shields Memorial Labyrinth would be a splendid commemoration for Manitoba's beloved citizen and writer.
"A Memorial Labyrinth in honour of Carol Shields would be an excellent addition to our city and a fitting tribute to one of Canada and Manitoba's foremost literary figures. Carol Shields found inspiration in our city and province, and it is only fitting that we in turn be inspired by her incredible contribution as a writer and a friend. Carol immortalized the labyrinth in her novel, Larry's Party. It's our turn to immortalize Carol Shields in a labyrinth in her honour right here in Winnipeg."
Gary Doer, Premier of Manitoba
So we began planning an outdoor labyrinth garden that would be permanent, lasting, and participatory. We wanted it to provide recreational opportunities for people of all ages in a relaxing, natural surrounding. The Shields' family gave us their blessings and have been supportive of the project from the beginning.
"Carol's family is thrilled with the idea of a labyrinth in Winnipeg in celebration of her life and work. Complex, creative, challenging, surprising, embracing - a labyrinth is a perfect symbol of Carol."
The Shields Family
Carol's Canadian publisher, Random House Canada, was also delighted with the project and has made a significant financial pledge towards the creation of the labyrinth.
| | |
| --- | --- |
| Artistic drawing by Friesen Tokar Architects | As the committee began planning the Carol Shields Memorial Labyrinth, it began to expand. Whenever we mentioned the project, groups asked if they could join. People from all over the world sent us their endorsements. The Manitoba Writers' Guild volunteered to accept Canadian donations. This project was growing! The size of the labyrinth began to expand on us as well. We started thinking it would be approximately 30 by 30 feet. |
But when we started considering wheel chair accessibility, we realized that it was going to have to be approximately 130 by130 feet. When we started to consider a design, Anne pulled out a labyrinth that she had used in a proposal to Riding Mountain National Park. Our design committee architect Rudy P. Friesen, engineer Garth Fallis and Anne took this design and met with Stefan Fediuk, landscape architect for the City of Winnipeg and Carol's daughter Catherine.
| | |
| --- | --- |
| Stefan suggested that we vary the width of the gardens that delineated the paths. This gave the labyrinth a unique effect. We decided to create a slight slope towards the centre of the labyrinth and open the reflective spaces on the outer ring to allow people to enter the labyrinth from different locations. This introduced a maze-type access to the labyrinth, which we felt was in keeping with the way Carol intertwines mazes and labyrinths in Larry's Party. | Artistic drawing by Friesen Tokar Architects |
We are planning to have pathways of fine gravel and will be incorporating some of the hedges and flowers Larry used in his mazes like caragana, spirea, alpine currant, cotoneaster, hedge maple, boxwood, inkberry holly, dark holly, barberry and cornelia cherry. We also plan to include, of course, some limestone as well as. some of the flowers from Carol's book The Stone Diaries: lilacs, crocuses, sweet william, bleeding heart, campanula, poppies, dahlias, and daisies.

A large but intimate centre was one of the important features we wanted in the Carol Shields Memorial Labyrinth. So Anne tried a semi-circular garden in the centre of the labyrinth. When she stood back from her design, she saw a spirit-like figure in the centre. Was it Carol's spirit?
| | |
| --- | --- |
| King's Park - a gathering place | As this project mushrooms, we hope that it will reflect the real life inspiration that Carol was for many people. Labyrinths take on the energy of those who are involved in them. Because Carol was such a powerfully respected and engaging person, this labyrinth is spreading and having an impact all over the world. And as we proceed, we are becoming more and more aware that Carol is leading us along the pathway. What a magical journey!! |
For more about the design and site click here.
For other projects click here.